You can't touch this! I love my MC Hammer trousers
but I do think they are one of those fashion items that girls love and guys just don't get. But they are just soooooo comfy and perfect for this heat!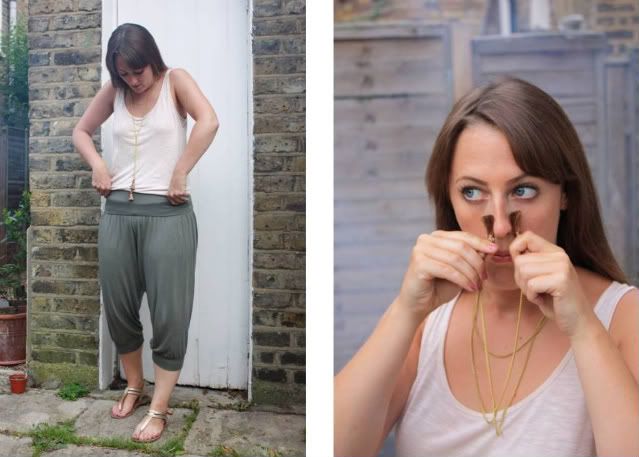 MC Hammer pants: New Look
Vest: H&M
Sandals: Accessorize
Necklace: Handmade by me


Why is it some days start off so badly?

Most nights I decide what I'm going to wear the next day and lay out (aka throw on the floor) so that when 7am comes around I can create something that is passable for human consumption. So last night I put out my blue and white nautical dress and yet this morning, it's nowhere to be seen. And I mean, no where. I'm shouting at the Bot but it's like some mystical creature has come in the night and stolen it. Still, I bite the bullet and enter the abyss of the wardrobe and decide on some old jean Capri pants and a lace/waistcoaty thing, as seen previously here. I'm half way through pulling up the jeans and rrrrrrrrrrrrrrrrrip, the crotch rips. I mean, come on, give me a frickin' break!
Long and short of it I found a pair of uniqlo cut offs that I'd completely forgotten about and made it safely in to work in plenty of time. Oh yeah, and the sun is still shining, so obviously everything will be fine!
Do you like the necklace I'm wearing? I made it myself following instructions from the wonderful …loveMaegan. She takes high fashion trends and recreates them using really simple techniques, stylish and affordable, my kind of lady.
Check out her post from yesterday featuring a video of Kesha's Tik Tok song with a remixed Star Trek video, brilliant!
Happy Wednesday my lovelies, half way through the weekend already, yay!
xoxo